Sunchine Quality is Engaged to Bring Safety and Trust to International Trade Globally.
First of all, I would like to say a big thank you to all of you who follow us on LinkedIn.
Sunchine Quality Control technology, Trademark Sunchine Inspection, is engaged to bring Safety and Trust to international trade globally.
Our duty is to guard the safety and well-being of our teams who strive every day to support our customers, importers and exporters.
Work in a safe and friendly environment, consolidate our achievements, listen and be responsive to the customers 'needs, provide them customized quality and compliance solutions are our priorities.
Talented people are welcome to join our international business team!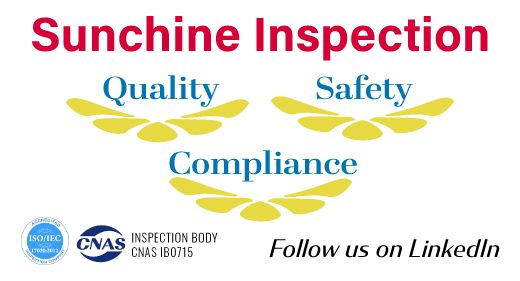 Sunchine Inspection has the experience and the required technical skills to help Brands, Retailers, Wholesalers and Distributors ensure that their sports products manufactured in China, Vietnam, India, Pakistan, Taiwan, Turkey and other Asian countries meet their requirements and quality expectations and are in total compliance with the relevant standards and safety regulations of their export markets.
Below are some photos of the tests on motorcycle helmets that was conducted by Sunchine Inspection 's accredited inspector during the pre-shipment inspection of full-face racing helmets in Guangzhou.
Please don't feel hesitate to contact us for any inquiry you may have or any further information you should need about our sports goods and sports equipment inspections and lab testing services.
Sample reports for sports goods are available.