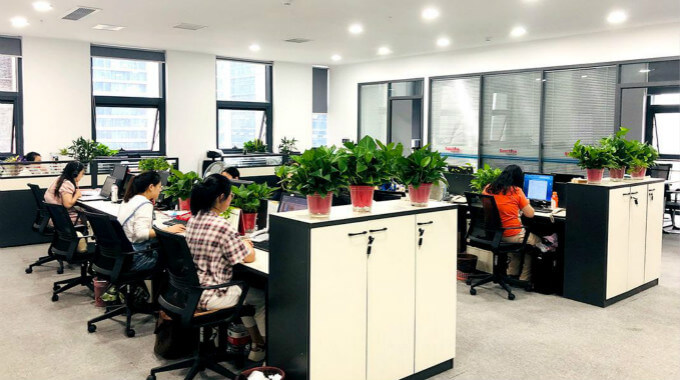 We have incorporated green plants in every spaces
As we informed you yesterday, our company Sunchine Inspection has moved this month to a new building in Nanjing to set up a big and brighter office in which our numerous collaborators can work in a relaxed and friendly atmosphere.
(We prefer to use the word "collaborators" instead of the word "employees").
We have incorporated green plants in every spaces and created convivial and spacious indoor workspaces. Below is the photo of one of these indoor spaces.
– – – – – – -✂ – – – – – – – – – – – – – – – – – –
As announced previously today Sunchine Inspection moved this month its office to a new building in Nanjing. Our new office is spacious and brighter with all indoor spaces enliven with green plants and some other decorations carefully selected to ensure that our staffs can work in a convivial and relaxed environment.
All the office furniture also have been changed and the work spaces reorganized to ensure that every person working at Sunchine Inspection office can feel comfortable in their workplace and work for hours without tiring.
Our passionate and dedicated staff strives every day to ensure the complete satisfaction of each and every one of our clients.
Every person matters and is important in a company and, must recognized and treated with respect. Our management team acknowledges and appreciates the merits and the contribution of every member of Sunchine Inspection to our growth and our successes.
– – – – – – -✂ – – – – – – – – – – – – – – – – – –
Sunchine Inspection is pleased to announce you that we have move our offices in Nanjing to a new building.
Our new offices in Nanjing are far more spacious and luminous.
Sunchine Inspection has moved its office to a new building in Nanjing. Our new office is spacious and brighter with all indoor spaces enliven with green plants & some other decorations carefully selected to ensure that our staffs can work in a convivial & relaxed environment pic.twitter.com/kiBabZ5q5z

— Sunchine Inspection (@inspection_asia) June 15, 2020