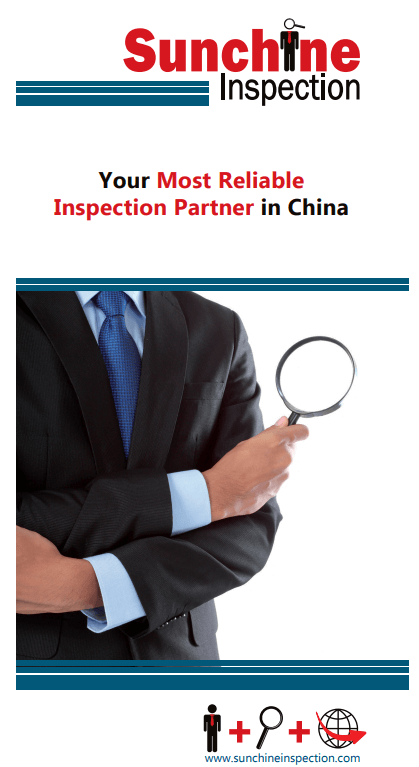 Sunchine Brochure (Part two)
Your Most Reliable Inspection Partner in China
Official Site: www.sunchineinspection.com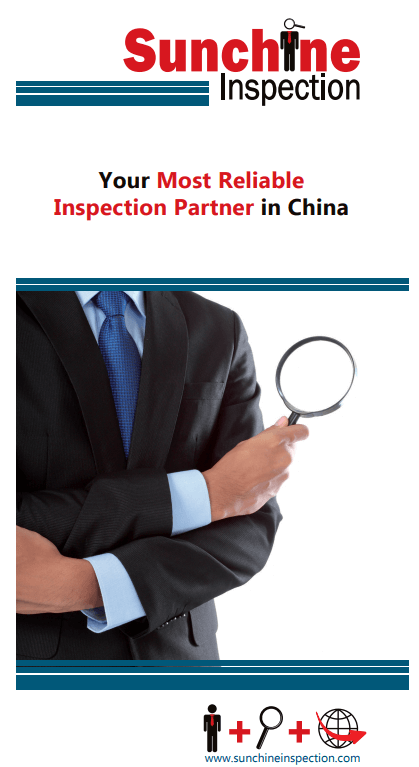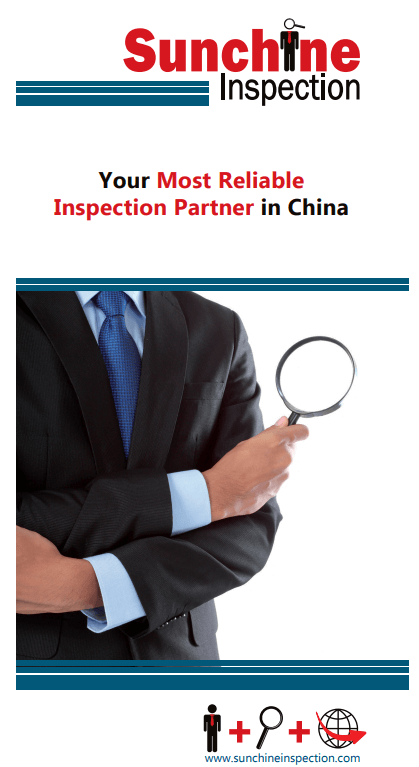 Our Advantage
One multi-language team combined with Chinese and Western Expertise
One experienced Consultant/ Advisor Team + Accredited inspector team
Quick reaction service and on-line security payment system
Assistance & Cooperation with other branch of Sunchine International (Sunchine Consulting)
Strict European Quality Standard for Inspection +Inspector selected according to product classification
Client Reference
Carrefour, Auchan, Celio, Etam, Franprix, Internacional Clothes Shop, John Lewis, Jules Vetements, Kappahl, Leader-Price, New Yorkerpng, Riachuelo, Bureau Vallee, Next, Bizzbee, Brice Magasin, Cofely gdf Suez, Emirates Airlines, Forever 21, Jennyfer, Mackays, Marca Pull and Bear, Marisa, Mothercare, Olympique De Marseille, Police Municipale Insigne, Primark, Promod, Reklamy Tesco,  Roos, Shoemart UAE, WMF… and many others.
At Sunchine Inspection, the same care and attention and the same standard of service are given to each client regardless of the size of his business.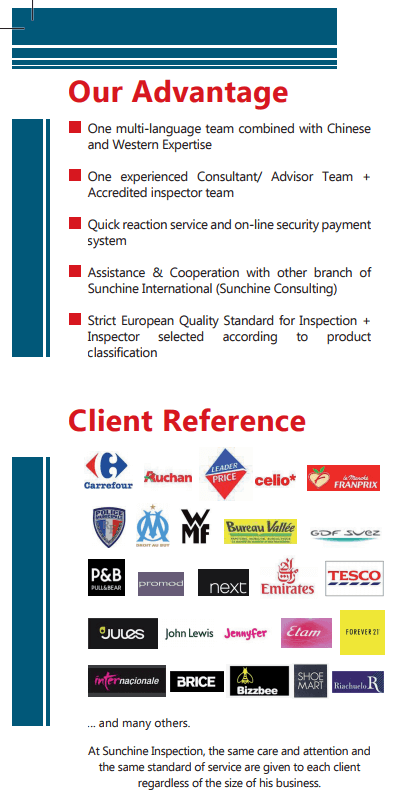 Our Network
Chongqing, Henan, Shanghai, Jiangsu, Shandong, Liaoning, Beijing, Hubei, Sichuan, Anhui, Zhejiang, Fujian, Guangdong, Jiangxi,  Hong Kong,Taiwan…
Service in more than 50 cities in China .
We are expending continuously.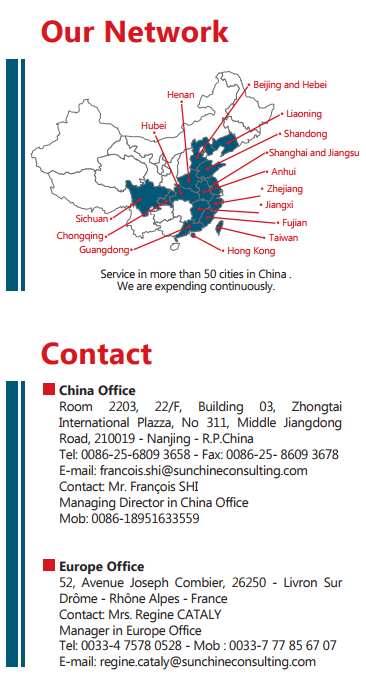 China Office
Room 2203, 22/F, Building 03, Zhongtai
International Plazza, No 311, Middle Jiangdong
Road, 210019 – Nanjing – R.P.China
Tel: 0086-25-6809 3658 – Fax: 0086-25- 8609 3678
E-mail: francois.shi@sunchineconsulting.com
Contact: Mr. François SHI
Managing Director in China Office
Mob: 0086-18951633559
Europe Office
52, Avenue Joseph Combier, 26250 – Livron Sur
Drôme – Rhône Alpes – France
Contact: Mrs. Regine CATALY
Manager in Europe Office
Tel: 0033-4 7578 0528 – Mob : 0033-7 77 85 67 07
E-mail: regine.cataly@sunchineconsulting.com