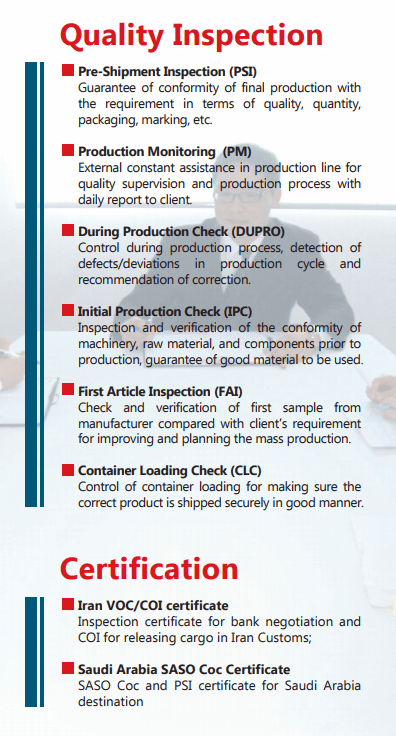 Sunchine Brochure (Part one)
Who We Are
Founded in 2007, Sunchine Inspection, with offices in China and in Europe, Sunchine Inspection has become one of the best third party inspection companies in China, serving over 1,200 regular clients in various fields, from all the Continents in the world.
Today, the inspection team of Sunchine Inspection is composed by around 100 qualified and accredited full-time inspectors, present in more than 50 cities iin China, which cover almost every important industrial region in China.
To guarantee optimum inspections results, Sunchine Inspection arranges the inspector according to product classification. All inspectors are very knowledgeable and expert in their field.
To be the most reliable QC partner of clients in China, to help them to buy and produce in China in all confidence and safety, it's the mission of each member of Sunchine Inspection!
We don't produce goods, but we create Values.

We don't sell products, but we build up Confidence.

We don't export cargos, but we are their Insurance.

We are here, because we know better the clients' Needs.
Thanks to choose Sunchine Inspection as your quality control partner in China !
 Quality Inspection
Pre-Shipment Inspection (PSI)
Guarantee of conformity of final production with the requirement in terms of quality, quantity, packaging, marking, etc.
Production Monitoring (PM)
External constant assistance in production line for quality supervision and production process with daily report to client.
During Production Check (DUPRO)
Control during production process, detection of defects/deviations in production cycle and recommendation of correction.
Initial Production Check (IPC)
Inspection and verification of the conformity of machinery, raw material, and components prior to production, guarantee of good material to be used.
First Article Inspection (FAI)
Check and verification of first sample from manufacturer compared with client's requirement for improving and planning the mass production.
Container Loading Check (CLC)
Control of container loading for making sure the correct product is shipped securely in good manner.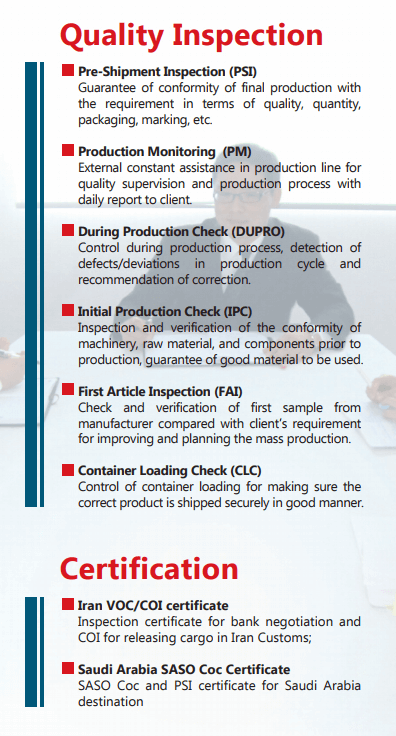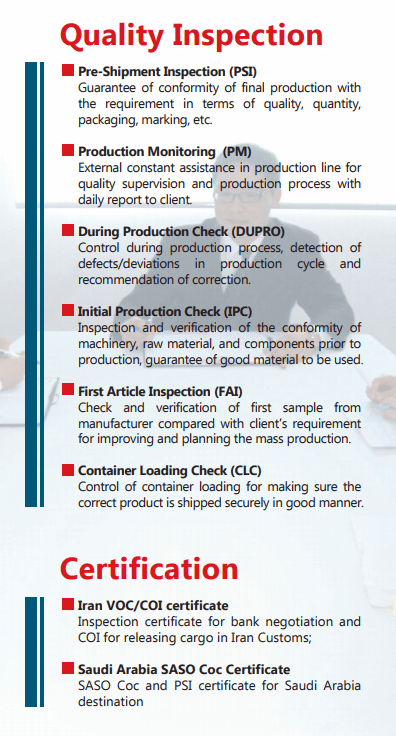 Certification
Iran VOC/COI certificate
Inspection certificate for bank negotiation and COI for releasing cargo in Iran Customs;
Saudi Arabia SASO Coc Certificate
SASO Coc and PSI certificate for Saudi Arabia destination
Supplier Audit
Supplier First Assessment (SFA)
Basic investigation/study for legal status, seriousness and solvency of supplier in China by business document and other public information check.
Factory Audit (FA)
Assessment of the production facilities and organization according to ISO 9000 standards to check production capacity and quality level prior to order.
Social Audit (SA)
Audit of supplier's level of social responsibility according to SA 8000 standard.
Lab Testing
Chemical, Textile & Leather, Metal, Mechanical& Electric, Cosmetic, food, etc.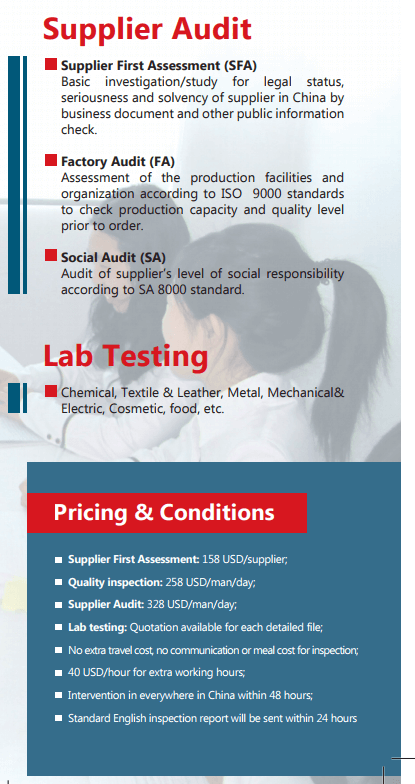 Pricing & Conditions
Supplier First Assessment: 158 USD/supplier;
Quality inspection: 258 USD/man/day;
Supplier Audit: 328 USD/man/day;
Lab testing: Quotation available for each detailed file;
No extra travel cost, no communication or meal cost for inspection;
40 USD/hour for extra working hours;
Intervention in everywhere in China within 48 hours;
Standard English inspection report will be sent within 24 hours
as your quality control partner in Chin