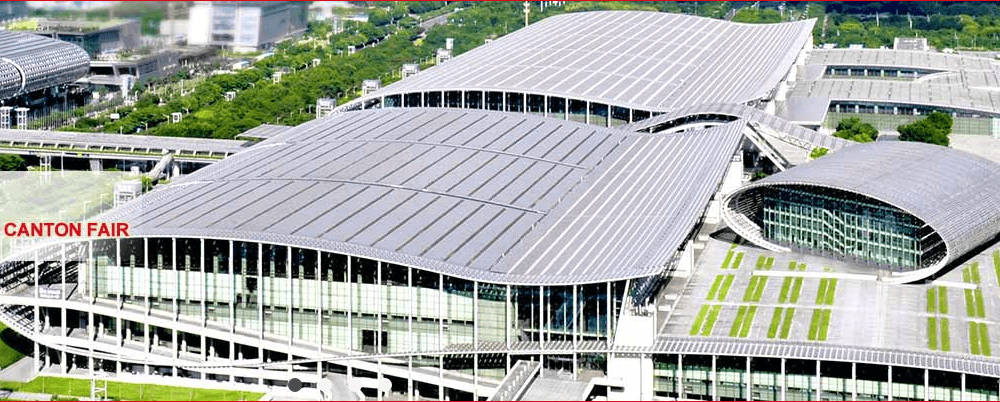 Press Release of the Concluding Press Conference of the 122nd Session of the Canton Fair
The concluding press conference of the 122nd session of the Canton Fair was held in the Canton Fair Complex on Nov 4. Xu Bing, Spokesperson of the Canton Fair and Deputy Director General of China Foreign Trade Centre introduced the general situation of this session.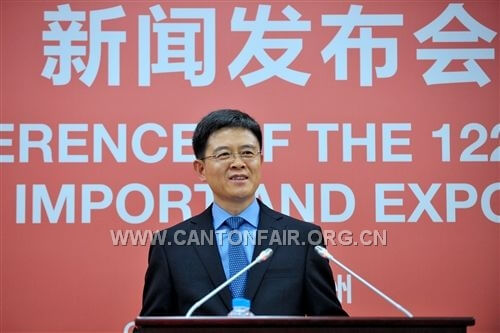 Xu introduced that the 122nd Canton Fair was held during the 19th National Congress of CPC. With the attention and care of the central government, the State Council, with the support and the leadership of the Ministry of Commerce, Guangdong Province and Guangzhou municipal government, guided by Xi Jinping Thought on Socialism with Chinese Characteristics for a New Era, we've studied and implemented instructions of the 19th National Congress in various fields of work at the Canton Fair, remained true to our original aspiration, kept our mission firmly in mind, affirmed political commitment and fulfilled our task of honoring history. We have focused on policy implementation, innovation-driven development, deepened supply-side reform, accelerated industrial transformation and upgrading, given full play to Canton Fair's role of an all-round platform for opening up with "Belt & Road" as the core, and made new contributions to consolidate the momentum of steady growth of foreign trade and to cultivate new advantages of foreign trade. With the concerted efforts of our staff, the 122nd Canton Fair went on smoothly and we reached our goals.
Xu said that the number and quality of overseas buyers both increased this session. Buyer attendance totaled 191,950 from 213 countries (regions), up by 3.36% over the 120th session.
In terms of buyer attendance of all continents in descending order, the number of buyers from Asia totaled 106,565, taking up 55.52% of the total; Europe 36,847, accounting for 19.02%; Americas 27,861, accounting for 14.51%; Africa 14,381 with 7.49% share, and Oceania 6,296 with 3.28% share.
Buyer attendance of all continents experienced growth. Compared with the 120th session, buyer attendance from Asia increased by 1.7%, from Europe increased by 4.21%, Americas up by 6.37%, Africa up by 4.48%, and Oceania up by 12.33%.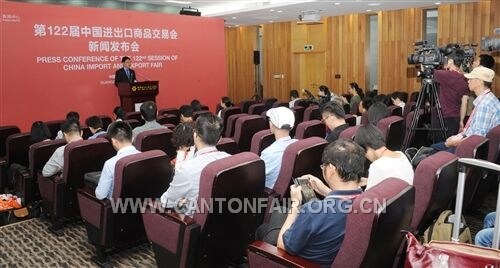 Buyer attendance from China's top 10 trading partner countries and regions in 2016 accounted for 61.79% of the total. The number of buyers from countries in the "Belt and Road Initiative" stood at 84,445, up by 3.48%.
Buyer attendance of the top 20 countries and regions accounted for 60.91% of the total. The top 10 countries and regions in terms of buyer attendance are Hong Kong, the United States, Thailand, India, South Korea, Russia, Taiwan Province, Japan, Malaysia, and Australia.
Altogether 1,086 international chain companies attended the Fair. 104 out of the Top 250 Global Retailers in 2017 attended the Fair. Among them there were 8 of the Top 10 retailers: Wal-Mart, Kroger, Walgreen, Home Depot, Carrefour, Aldi, Tesco, and Amazon. 8 multinational companies from 6 countries signed up for the Multinational Sourcing Service, including Auchan Retail (France), Kesko Group (Finland), Taurus Group (Spain), Staples (the US), Harbor Freight (the US), Lifetime Brands (the US), Kawan Lama Group (Indonesia) and Lock& Lock (South Korea).
Regular buyers with more than 10 times' attendance totaled 50,036, up by 2.46%; buyers with more than 15 times' attendance 36,597, up by 4.22%.
Buyer attendance proportion in terms of their business line is: (top five) electronics and household electrical appliances accounting for 38.96% of the total, daily consumer goods 31.03%, home decorations 28.54%, gifts 27.15%, and textile and garment 25.23%.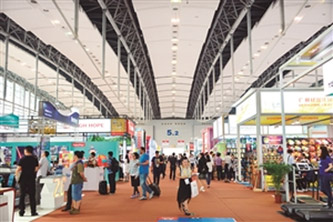 Xu mentioned that this session witnessed stabilizing growth of the export transaction and accelerated steps made by companies to adjust their structure and transform growth engine. The accumulated export transaction of this session totaled 198.652 billion RMB Yuan (or 30.16 billion US dollars), an increase of 8.2 % over the 120th session (same below).
Machinery and electrical products enjoyed the highest transaction, at 15.91 billion USD, up by 5.4% and accounting for 52.7%; transaction volume of light industrial products stood at 8 billion USD, up by 11% and accounting for 26.5% of the total; textile and garment 1.74 billion USD, up by 6.8% and accounting for 5.8%.
The transaction volume in brand zone reached 10.8 billion US dollars, an increase of 13.6%, accounting for 35.8% of the total.
The transaction with the "Belt and Road" countries totaled 9.37 billion dollars, a year-on-year increase of 13.6% and accounting for 31.1% of the total.
Of all orders, the proportion of mid- and short-term orders was high while that of long-term orders was low. 43.5% are short-term orders within 3 months, 36.9% are mid-term orders covering 3-6 months and 19.6% are long-term orders over 6 months.
In this session, exhibitors focused on the supply side and stepped up their product R&D investment, led industrial transformation and upgrading with innovation, increased their product update ratio, and developed new brands. Products that were smart, premier, custom-made and green and low carbon were very popular, showing to the world the competitiveness of China's smart manufacturing and Chinese brands. In the meanwhile, more and more exhibitors started to explore "Belt & Road" markets while consolidating their traditional markets, develop products that meet the market demands based on the market characteristics, build R&D centers, production bases and marketing channels in B&R countries, develop industrial clusters that meet the demand of local industrial upgrading, thus drove the smooth trade and win-win development between China and countries along the route.
Xu pointed out that Canton Fair has expanded new functions and made a better use of domestic and international markets and resources; it has become an all-round platform for opening up with foreign trade transaction at its core and multi-functions such as customer networking, display and negotiation, industrial communication, new product introduction and brand promotion. Firstly, enhanced function to increase export. Through optimizing the quality of exhibitors and sections and improving targeted marketing, we've enhanced Canton Fair's specialization and information technology application, and increased export transaction. Secondly, enhanced role of import promotion. In this session, the International Pavilion introduced industrial products with high technological content and high-end brands and consumer products that met the demand of the Chinese market. Brands from the US, Japan, South Korea, the UK have entered the Chinese market through the International Pavilion; exhibitors from Italy, Egypt and India reached long-term cooperative content with Chinese companies. We held the Baby Salon—international baby products matching event and invited China's importers, distributors, retailers of baby products to meet with more than 20 exhibitors from Germany, New Zealand and South Korea to develop potential trading partners. Thirdly, an important channel for meeting customers. During this session, the number of new buyers amounted to 75,959, a year-on-year increase of 5.96%. Canton Fair serves as the main channel for Chinese exporters to meet their clients; for some exhibitors, more than 80% of their clients are known through the Canton Fair. Fourthly, promote local industry with features or advantages. At the Canton Fair we've made use of the vast amount of domestic and international resource, enriched Canton Fair's service and function, held various kinds of trade matchmaking activities and promoted local feature industries, outstanding companies and brands to the world. In this session we have worked with local commerce departments on promotional activities for Jilin, Ningbo, Chengdu, Quanzhou, Zhejiang and Qingdao, facilitated efficient matching between suppliers and buyers, which was well received among local authorities, companies and buyers. We've organized over 70 buyers from Brazil, the US, Poland, Ukraine, Serbia, and the UAE to visit the Yuexiu District and Haizhu District for cultural and business tours, deepening their cultural experience of Guangzhou as a thousand-year-old business city. Fifthly, lead innovation and development with design. Through design display, design matchmaking and Canton Fair Design Awards, Canton Fair has been leading and encouraging exhibitors to enhance their product design and innovation capacity. In this session 105 design agencies were consulted 20,000 times on design service, 40.53% of which are projects to follow up, showing active exchange with exhibitors and design agencies. Moreover, 72 products from 57 exhibitors won Best of the Best, Gold, Silver and Bronze Prizes of the 2017 CF Awards. We also held the CF Awards 5th Anniversary–Innovation Prize for Exhibitors, and praised 20 exhibitors who valued innovation and R&D in the past 5 years. We've encouraged Chinese exhibitors to enhance their innovation capacity and held a thematic display of the award winning products to achieve better results in transaction. Sixthly, enhanced function of industrial exchange. In this session we held 50 conferences and forums, with 8 themes such as international market, industrial summit, brand marketing, trend, design and innovation, R&D, local industrial promotion, new product launch etc. We held Canton Fair (UK) International Market Forum, Canton Fair Sourcing Day—UN and other international organizations, Belt & Road, Focus on the UAE—China and UAE Matchmaking Event. These forums strengthened industrial information exchange and promoted efficient interaction between buyers and exhibiting companies, helping exhibitors gain information on demand and trend of overseas markets.
Xu introduced that in this session we have continued to build Smart Canton Fair. We launched the big data board for the first time, providing data reference for attendees and data support for efficient interaction between suppliers and buyers. We've improved exhibitors and products search system, highlight products column, Canton Fair official website and mobile APP, upgraded smart information collection and buyers badge application, used facial recognition technology for information verification and realized innovative marketing, smart management and convenient service of the Canton Fair. By Nov 3, over 230,000 guests from 214 countries and regions visited the Exhibitors and Products system, with a daily visit of 25,000; clicks on the Highlight Products were 1.8 times that of products in all sections; 5503 companies used the service of "customers' attention" for 18903 times; the newly-added automated voice recognition on mobile APP made it more convenient to use, with functions of map localizing, scan QR to connect to WIFI popular among users, and it was downloaded for 97653 times on an accumulative basis.
Xu mentioned that we've pressed ahead Canton Fair Green Development Plan 2.0, improved the quality of green development on a full scale, and made new trials in the selection of Green Booth Award and 637 custom-built booths applied for the award. Compare to the period before the implementation of green development plan, the amount of solid waste and power usage have both declined, the environment within the Complex have been improved, the cost of building green booths significantly reduced, structural security of green booths improved and onsite display results enhanced.
Xu stated that in this session, with improved rules and regulations, enhanced precaution mechanism and strengthened branding, the Canton Fair has presented a new image, which was the focus of attention for many parties. The Canton Fair Complaint Station handled 554 IPR cases, with 730 exhibitors filed and 330 determined as constituting alleged infringement. Compared with the previous session, the number of cases handled decreased by 16.39%, the number of filed enterprises increased by 22.69%, the number of alleged infringement up by 4.76%, and the proportion of companies determined as constituting alleged infringement to companies filed was down by 7.73 percentage points. The Station also dealt with 25 trade disputes, 18 more than the last session. Canton Fair's IPR protection has not only regulated the order of transaction, established a sound international image of safeguarding fair trade, facilitated entrepreneurship and innovation, but also demonstrated to the world Chinese government's position of IPR protection and innovation encouragement, and enhanced the confidence of the world to develop economic and trade relations with China.
Xu said that in this session we have followed the instructions of the Ministry of Commerce, Guangdong Province, Guangzhou Municipality on security, adopted a multi-pronged approach of security ensured by people, technology and objects, bettered many kinds of emergency precaution plans, and strived to guarantee security with stricter requirements, higher standards and more solid measures. With converted efforts, this session was held smoothly and securely, with no incidents of terrorist attack, fire, food poisoning, major epidemic, or traffic congestion. We created a secure and comfortable environment for customers from home and abroad to negotiate and achieve orders, making our due contribution to the 19th National Congress.
Xu mentioned that we've implemented the strategic plan by the central government on poverty alleviation and adopted the approach of alleviating poverty by business, established Traditional Chinese Specialty section and welcomed 179 exhibitors from 21 trading delegations. Exhibitors met many valid customers through participating in the Canton Fair, received orders to export and opened overseas markets. More importantly, they have also known the demand of international market, which laid a solid foundation for them to further explore international market, and drive foreign trade and economic growth of poverty stricken areas.
(Canton Fair Press Center)