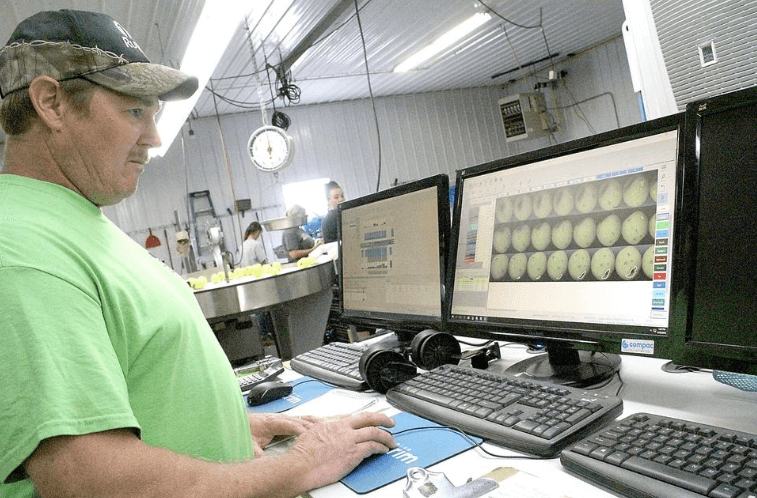 New technology takes the guess work out of quality control
HILLSDALE — Apple season is here and Glei's Orchards and Greenhouses, in Hillsdale recently made a huge investment in technology to ensure they are selling the highest quality apples.
The orchard, which has been a fixture in Hillsdale County for 100 years, installed a new piece of equipment in July, which takes 300 pictures of each apple and grades it in a matter of seconds.
The Spectrim unit builds a three-dimensional model of each apple as it rolls down a conveyor belt, while the Inspector II unit uses infra-red technology to detect internal browning issues.
Glei's is only the third orchard in the world to utilize the Inspector II technology and the first in the United States. The other two units are operational in New Zealand.
The reason for purchasing the machine is simple, customer demand.
One of the orchard's most popular apples is the Honeycrisp, which is susceptible to internal-browning.
"This will allow us to sell quality apples later in the season," said Mark Seely, manager of the apple grader at Glei's.
Seely has spent countless hours since the machine was installed running apples through it to build a profile of each variety. With over 20 varieties of apples grown at Glei's, every new variety through the machine has to be cataloged to help with the accuracy of the machine.
Seely said for the machine to work well it must have some 1,500 examples to compare each apple to.
"You have to teach the machine (with every variety) so it has a percentage base to go off of," he said.
Glei's Orchards sells and ships between 14,000 and 18,000 bushels of apples during the season, which runs from August through May. After the apples are picked they are kept in cold storage at the Hillsdale facility before they are bagged and sent to the sales floor.
Seely said the apple season is looking like it will be a good one as it was almost a perfect spring for apple production.
Crews at the orchard began picking apples a week ago, with one of the earliest varieties being a Ginger Gold, which is a sweet yellow apple that is ripe before Golden Delicious. Crews will begin to pick Honeycrisp apples sometime after Labor Day.
The investment may have changed the way apples are graded at the orchard, but Seely said the new machine and technology didn't replace any of the orchard's employees. Employees who used to inspect the apples on the line were just shuffled to new jobs.
Those apples that don't meet quality standards are discarded down a separate conveyor belt to be sold as utility apples or made into cider.
By Andy Barrand
abarrand@hillsdale.net