Houseware, Home Textiles, Gifts and Printing Fairs Organized by Hong Kong Trade Council Open in April
More than 7,400 exhibitors will showcase lifestyle products with start-ups sharing the spotlight.
GDA Staff, April 12, 2018
April 10, 2018 — Four major trade fairs organised by the Hong Kong Trade Development Council (HKTDC) will open this month. The HKTDC Hong Kong Houseware Fair and the HKTDC Hong Kong International Home Textiles and Furnishings Fair will run from April 20-23 at the Hong Kong Convention and Exhibition Centre (HKCEC).
The HKTDC Hong Kong Gifts & Premium Fair will take place from April 27-30 at the HKCEC, while the concurrent Hong Kong International Printing & Packaging Fair, jointly organized with CIEC Exhibition Co. (HK) Ltd, will be held at AsiaWorld-Expo. The fairs will welcome more than 7,400 exhibitors from 35 countries and regions this year. The HKTDC organized 300 buying missions comprising more than 14,500 companies from around the world to visit the four fairs.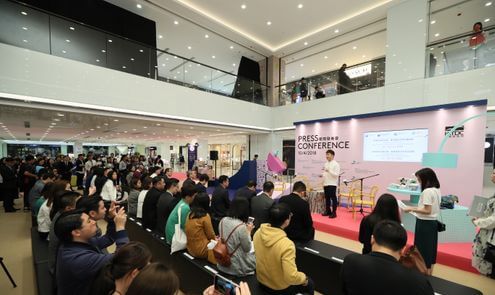 Connecting startups with global buyers
"The HKTDC launched the Startup Zone at the Houseware and Gifts & Premium Fairs last year, allowing startups to exhibit at the fairs at lower cost and connecting them with buyers and potential business partners," said Benjamin Chau, HKTDC Deputy Executive Director. "The Startup Zone is returning at the two fairs this year, attracting startups from Hong Kong, the Chinese mainland and Taiwan, as well as first-time participants from Indonesia and Bangladesh. Startups can discover further business opportunities by presenting their products and business ideas to buyers and investors at 'Startup Smart Launch' sessions."
Among the Houseware Fair's start-up exhibitors is Hong Kong brand Maxcare, whose self-developed, space-saving mini electric gym bike Bicit is equipped with a dedicated game app allowing users to compete with friends online. Another start-up exhibitor at the Houseware Fair and Gifts & Premium Fair, Taiwan designer brand Arky Design, has developed an array of smart products with support from crowdfunding. Among them is the Herb&Fish CONNECT, a trendy household aquaponics decoration incorporating smart technology, enabling users to control its LED light and monitor the water temperature through a mobile app.
Houseware Fair — All about "L.I.F.E"
The 33rd edition of the Hong Kong Houseware Fair is expected to welcome about 2,300 exhibitors from 25 countries and regions. Given last year's enthusiastic response, the fair's main theme will continue to be "L.I.F.E," which stands for its four major themed zones: Lifestyle, Interior, Feast and Enrich.
To highlight these themes, the HKTDC will collaborate with NellyRodi, a well-known Paris-based trend-forecasting agency, to present four trend concept displays. A trend seminar will also be organized to unveil houseware trends for summer 2019.
Zones under the "Lifestyle" theme will include the Hall of Elegance, World of Fine Dining, World of Fine Décor, Creative Arts & Cultural Crafts and Green Living. The Hall of Elegance will showcase, among others, renowned Japanese brand Kai with its "Q Sharpener," a knife sharpener with suction cups at the bottom enabling users to sharpen a knife with just one hand. Despite its small size, it comes equipped with both fine- and coarse-grained slots.
"Interior" will comprise the Interior Décor, Festive Décor and Best of ASEAN zones, as well as Group Pavilions, where exquisite decorations will be found. "Feast" will feature a vast array of tasteful cooking and dining tools across six zones: Tableware, Wine Tools & Accessories, Kitchenware & Gadgets, Home Appliances, HORECA (hotel, restaurant and cafe supplies) and Coffee Alley.
"Enrich" will house such zones as Startup Zone, World of Pet Supplies, Homepedia, Baby Products, Bath, Beauty & Healthcare, Home Cleaning & Laundry, Storage Solutions and Outdoor & Gardening. Meanwhile, the World of Building & Hardware will return this year to present a range of kitchenware, bathroom wares, quality building materials, hardware and DIY tools from well-known brands including Bosch and Swiss Military.
Houseware and Home Textiles fairs to create synergy
Held concurrently with the Houseware Fair, the HKTDC Hong Kong International Home Textiles and Furnishings Fair will feature about 300 exhibitors from nine countries and regions, with new participation from Pakistan. Nantong city of the Chinese mainland's Jiangsu province, dubbed the "Hometown of Textiles," and textiles organisations from India will return to set up group pavilions.
In line with the Houseware Fair, the Home Textiles and Furnishings Fair will adopt an "Interior" theme and showcase a variety of home textiles, upholstery and furnishing products. Other spotlight zones include the Hall of Glamour, Bathroom & Kitchen Textiles and Baby & Bedroom Textiles.
Gifts fair to feature some 4,360 exhibitors
The 33rd edition of the Hong Kong Gifts & Premium Fair will welcome about 4,360 exhibitors from 34 countries and regions. The Hong Kong Exporters' Association will set up the "Smart Design Village," "Brand Oasis," "Isle of Originality" and "Trendy Gifts" zones at the fair to showcase quality gifts and premiums from Hong Kong companies to global buyers. The premium zone, the Hall of Fine Designs, will gather more than 130 global brands, including B.Duck from Hong Kong, Sanrio from Japan, Germen writing instruments brand Kaweco and Italian stationery brand Moleskine.
A new zone, the World of Camping & Outdoor Goods, will be launched to provide a variety of climbing packs, daypacks, diving goods, camping gear and sports items. Other product zones will include the World of Gift Ideas, Beauty, Health & Wellness, Fashion Accessories, Figurines & Decorations, Licensed Gifts, Travel Goods & Umbrellas, Startup Zone and Tech Gifts. The mainland, the United States, the United Kingdom, France, Germany, India, Japan, Korea and the Philippines will set up group pavilions.
HKTDCSeminars to explore market trends
To help buyers explore the latest industry opportunities, a range of seminars will be organized at the four fairs to discuss hot industry issues. Seminars at the Gifts & Premium Fair will include "Top 5 Global Digital Consumer Trends in 2018," at which representatives from Euromonitor International will share their market insights, experts from Pantone will discuss how colors impact design, and the US Promotional Products Association International will offer advice on capturing opportunities in the American market.
At the Printing & Packaging Fair, seminars will examine how Hong Kong's graphic arts industry can embrace the cultural and creative opportunities in the Guangdong-Hong KongMacao Bay Area, as well as new developments in and applications of digital printing. At the Houseware Fair, renowned trend forecasting agency WGSN will predict upcoming lifestyle trends.
The "International Kitchenette" demonstration will feature chefs preparing delicacies using cookware from the exhibitors, while baristas will give latte art performances. Buyers can also check out the latest products at Product Demo & Launch Pad and Startup.Smart Launch sessions, and meet with industry players at networking receptions to capture more business opportunities.
Article Source: http://www.giftsanddec.com/article/552503-houseware-home-textiles-gifts-and-printing-fairs-organized-hong-kong-trade-council-open-april/
Related Activity:
Sunchine Inspection at Hong Kong Gifts & Premium Fair
Related News:
Sunchine Inspection Exhibits At Hong Kong Gifts And Premium Fair
Sunchine Inspection booth at Hong Kong Gifts & Premium Fair
The First Day Of Hong Kong Gifts And Premium Fair