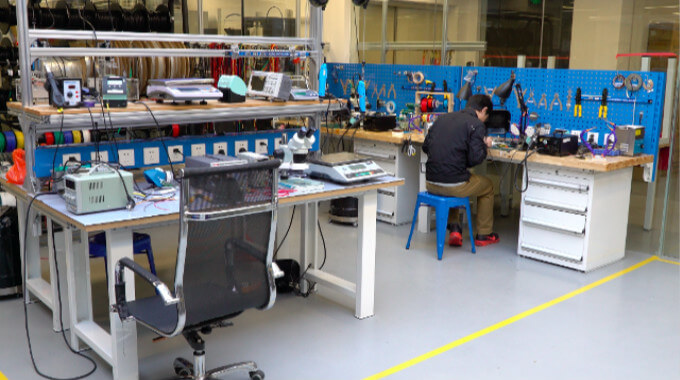 All Roads Lead To Shenzhen For Hardware Entrepreneurs
By Pamela Ambler, FORBES STAFF
To describe the HuaQiangBei (HQB) electronic market in the southern Chinese city of Shenzhen as a boom town for computer components is a gross understatement. Venturing through crowded stalls piled with an array of microchips, circuit boards, LED lights and wireless chargers all while flying drones buzz about, you think you've seen it all. But you've barely scratched the surface — or the bottom in this case.
Perched above the bustling computer center is HAX, a hardware incubator eight floors atop the sprawling arcade. The moment we stepped into the lift, the background chatter went from colloquial Mandarin to English spoken in various accents. At about 10:30am, the incubator teams started to funnel in through the shipping container stylized entry way. Nearly half a dozen of them riding on electric self-balancing hoverboards.
The accelerator is spread across 42,000 square feet and equipped with all the standard fixtures found in your typical co-working space — telephone booths, meeting rooms, a ping pong table, and an auditorium for talks and pitches. In addition, there are prototyping rooms with assorted industrial testing equipment, a fabrication facility, and even a bio lab for agricultural or medical research. The 30-member staff at HAX range from mechanical, electrical and robotics engineers, to industrial and graphic designers. All of whom are at the cohort's beck and call.
"You can prototype anywhere but it takes a long time. Ninety percent of electronic components originate in Shenzhen," says Duncan Turner, managing director of HAX. "You can get Western components, but you find that when you manufacture, everything changes. So, you have to reengineer, redesign. Doing things here means you're optimal in terms speed and efficiency into the manufacturing supply chain."
How Startups Are Helped By HAX, The World's Top Hardware Incubator
DESIGN FOR MANUFACTURING
Take Pushme for example: The startup can convert any regular bicycle into an electric one in under a minute. To do so, they swap out the wheel and attach a mounted device on the frame, which wirelessly detects peddling. The model propels you forward with electricity supplied by a battery pack. You get a notification on your phone when the device is running low on energy. The rider can then navigate to the nearest PushPod, located in cafés and convenience stores, and exchange their battery for a fully charged one.
The London-based company is comprised of engineers from all around the world. "We all came to Shenzhen, effectively, to commercialize, basically design for manufacturing (DFM) and build out our supply chain," Pushme CEO George Kalligeros explains. "The process of going from design to an actual product needs to happen with the manufacturers. Cause we know how to design, they know how to make, and the two need to meet in the center."
Before arriving in China, Pushme trialed with some of the world's largest on-demand delivery companies. During the four months the former Tesla engineer has been in China, Kalligeros has taken his initial prototype from drawings on a computer screen to completion. "Going back home we already know who we're buying our components from," he says.
This Startup Converts Any Bicycle Into An Electric One In Under 60 Seconds
MAKE IT FAST
One of the HAX startups from Copenhagen said they were pleasantly surprised by the level of service they've encountered in Shenzhen, which has proven far superior in both efficiency and quality when it comes to 3D printing their hardware. "The service industry is so well developed, they know exactly what you want and what you expect to see," says Keenan Pinto, head of technology for Nordetect. From his experience, the print shops back home charged extra anytime a minor correction had to be made. "This philosophy of make it and make it fast, I did not encounter in Denmark."
The company builds biochemical sensors that allow farmers to detect compounds from soil in real-time, without having to send in samples for testing. Traditional lab analysis is both time consuming and cost prohibitive. It takes up to three weeks for results and costs about $30 per sample.
The agtech startup shrunk an entire lab into a tiny chip inside a handheld box. Knowing that the composition of soil changes constantly, the plant genetics expert recommends instantaneous testing for the most effective fertilization plan.
"Learning how to make one product is easy, learning how to make thousands at scale is a whole different ball game. That's something about China that I'm really going to miss," says Pinto. After several iterations, the startup has a scheduled production run next April, and will be ready to go to market by May, right at the beginning of the growing season in Denmark.
COMING FROM AMERICA
Two American teams, WAZER from New York, and unspun from San Francisco are also in the current cohort at HAX. WAZER built a compact waterjet cutter fit virtually for any maker space. With abrasive particles and very high-water pressure, it cuts through glass, stone, ceramic, carbon fiber, and various metals including titanium.
Matt Nowicki, cofounder and CTO of WAZER, says one of the elements of scaling down industrial equipment to desktop size requires bringing the price from $10,000 down to $6,000 for their product. They're using off-the-shelf components since they don't have the volume to dictate bulk discounts for custom components. "Going directly to China is a big deal for us," says Nowicki. "We can go through a distributor in China which only takes on a 20% markup, as opposed to, when all said and done, a 100% to 300% markup in the U.S."
WAZER has already sourced its first batch of components which are being assembled in its Brooklyn facility. The next few months will be fulfilling pre-orders, followed by direct sales and working with distribution partners.
Newcomer unspun is in a much earlier stage of development. The Bay Area entrepreneurs want to develop a machine for the automated manufacturing of custom made clothing, essentially a 3D printer for weaving garments. Cofounder Kevin Martin points to the fact that 97% of clothes sold in the United States are imported. "Being able to see how the machines work is something we don't have access to in the U.S." He says the industry really only exists in this part of the world and the technology hasn't changed much since the 1970s.
Beyond being motivated by the fact there's lots of room for technical innovation in the space, "being in Shenzhen means there's not as many distractions as there are in San Francisco. So, 100-hour work weeks are totally normal, because that's what we're here to do."
From: https://www.forbes.com/asia/shenzhen-hardware-capital/