Sunchine Inspection will participate to the 125th Canton Fair
Sunchine Quality Control Technology Co. Ltd, brand name Sunchine Inspection, will participate to the 125th Canton Fair in April and exhibit at two booths (booths Number: Hall A: 4.2-03 and Hall B:13.4R (Pearl River Walk) during the three phases of the 125th Canton Fair:
– Phase 1: April 15th-19th
– Phase 2: April 23th- 27th
– Phase 3: May 1st-5th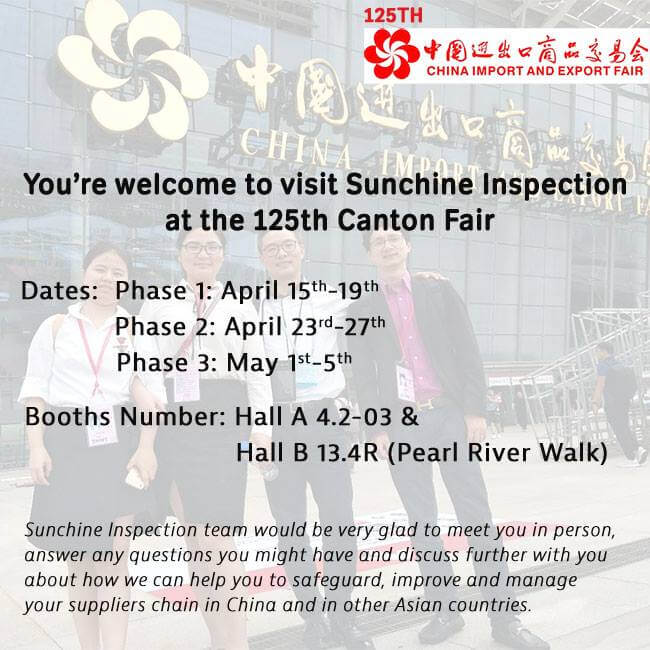 If you come to Canton Fair, Sunchine Inspection team would be more than happy to welcome you at our booths and take this opportunity to discuss further with you your needs and expectations and answer any questions you might have about the quality management, quality control, inspection, auditing, product compliance, lab tests and certification services in China and Grand Asia.
Our duty at Sunchine Inspection is to help buyers all over the world to improve , safeguard and optimize their suppliers chain in China and Grand Asia.
If you prefer our team can also set up a one-to-one business meeting with you in Guangzhou outside the opening hours of Canton Fair between April 15th and May 4th. Just leave us a message?
Our experts can advise you all along the purchasing and producing process, analyze your needs, preoccupations and expectations and help you to find the most suited solutions to help you to secure and optimize your business in China and Asia.
Sunchine Inspection, will participate to the 125th Canton Fair in April and exhibit at two booths (booths Number: Hall A: 4.2-03 and Hall B:13.4R (Pearl River Walk) at the 3 phases of the 125th Canton Fair:
– Phase 1: April 15.-19.
– Phase 2: April 23.- 27.
– Phase 3: May 1.-5. pic.twitter.com/WpONEtUzMj

— Sunchine Inspection (@inspection_asia) March 14, 2019