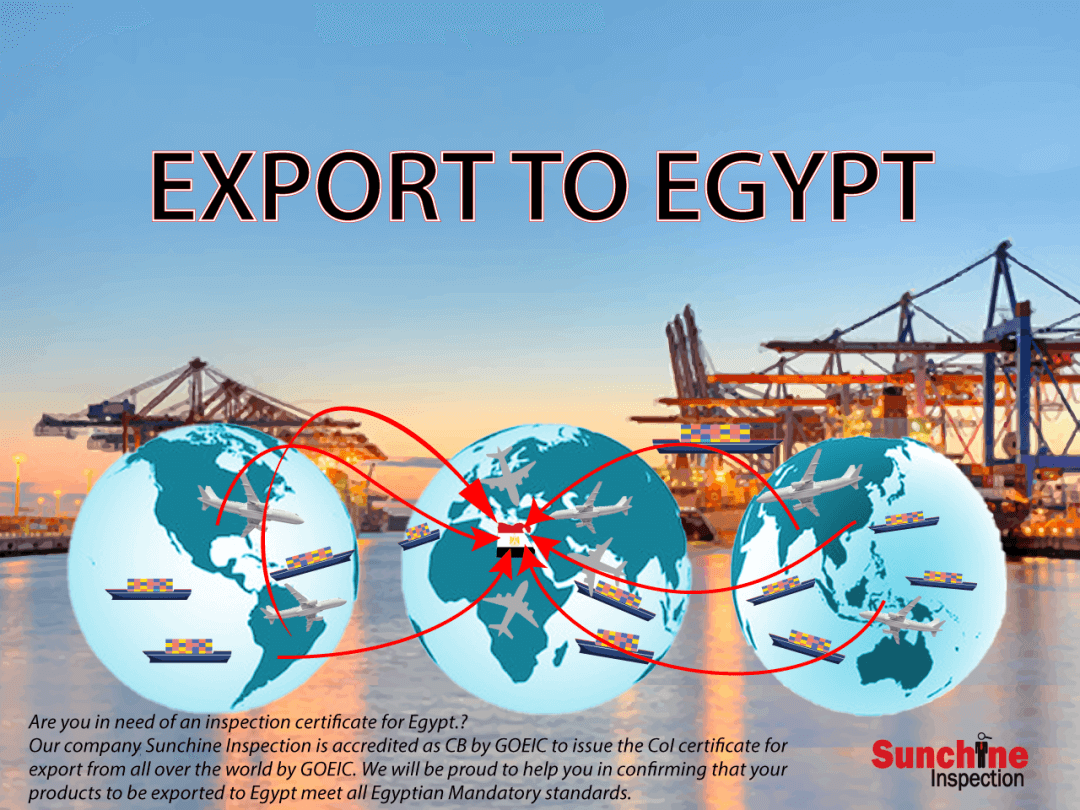 Scope of Accreditation of Sunchine Inspection in GOEIC has been extended successfully!
Recently, Sunchine Inspection received the official notice from the Egyptian Ministry of Industry and Trade (MFTI) and the General Authority for Export and Import Control(GOEIC) that the scope extension application of Sunchine Inspection has been officially approved!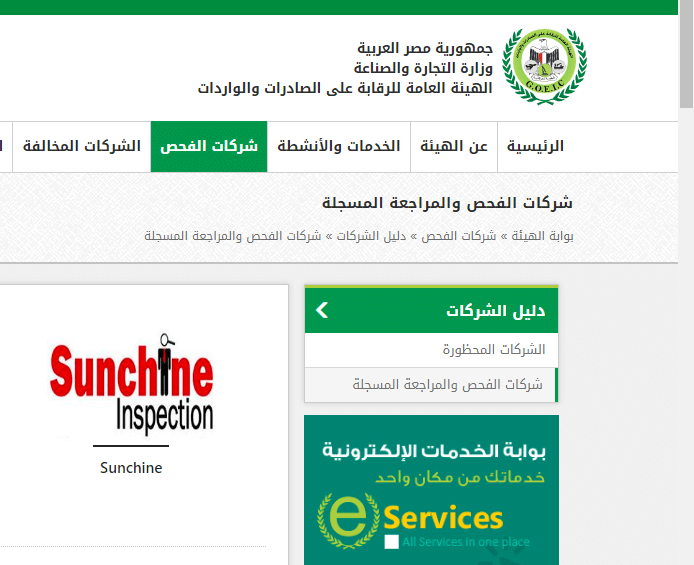 The latest scope has been published in the website of GOEIC in Egypt
Home Appliances;
Lighting;
Clothing;
Footwear;
Home Textile;
Furniture;
Toys;
Tableware And Kitchenware;
Battery;
Low-Voltage Cables and Optical Cables;
Clocks and Watches;
Bags and Cases;
Bicycle;
Building Materials;
Door Lock;
Welding Wire.
From the March 16, 2016, two Ministerial decrees 991/2015 and 43/2016 issued by the Ministry of Industry and Trade (MFTI) came into effect. All controlled products are required to obtain an Inspection Certificate (hereinafter referred to as a COI certificate) issued by a Third-party Inspection Agency authorized by the General Authority for Export and Import Control (GOEIC) in order for goods to be cleared at Egyptian ports and borders. Otherwise, the products will not be allowed to enter the Egyptian market.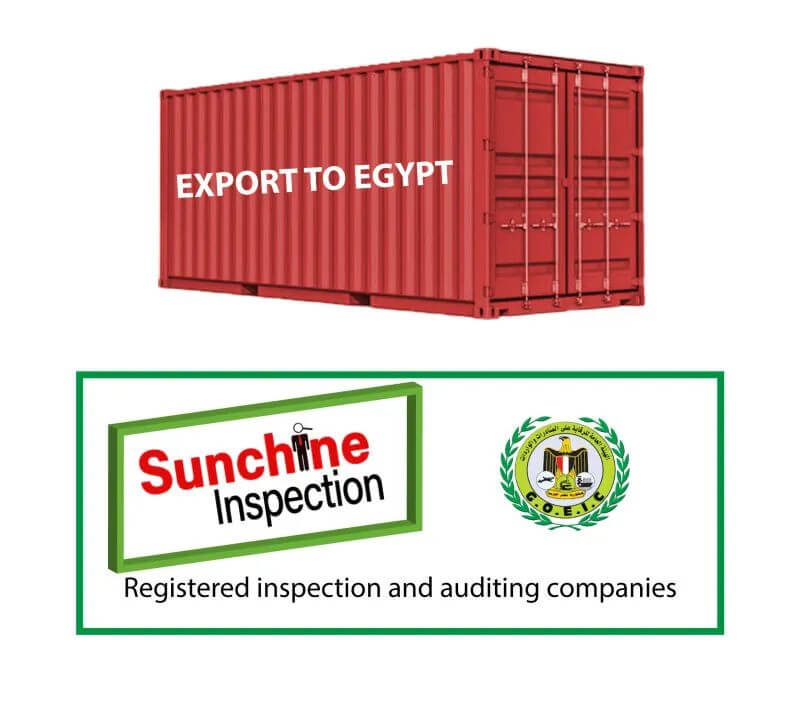 Sunchine Inspection, as an international third-party inspection and certification body recognized and authorized by the Egyptian government, has been committed to the inspection and certification of legal imported products in Egypt since 2020.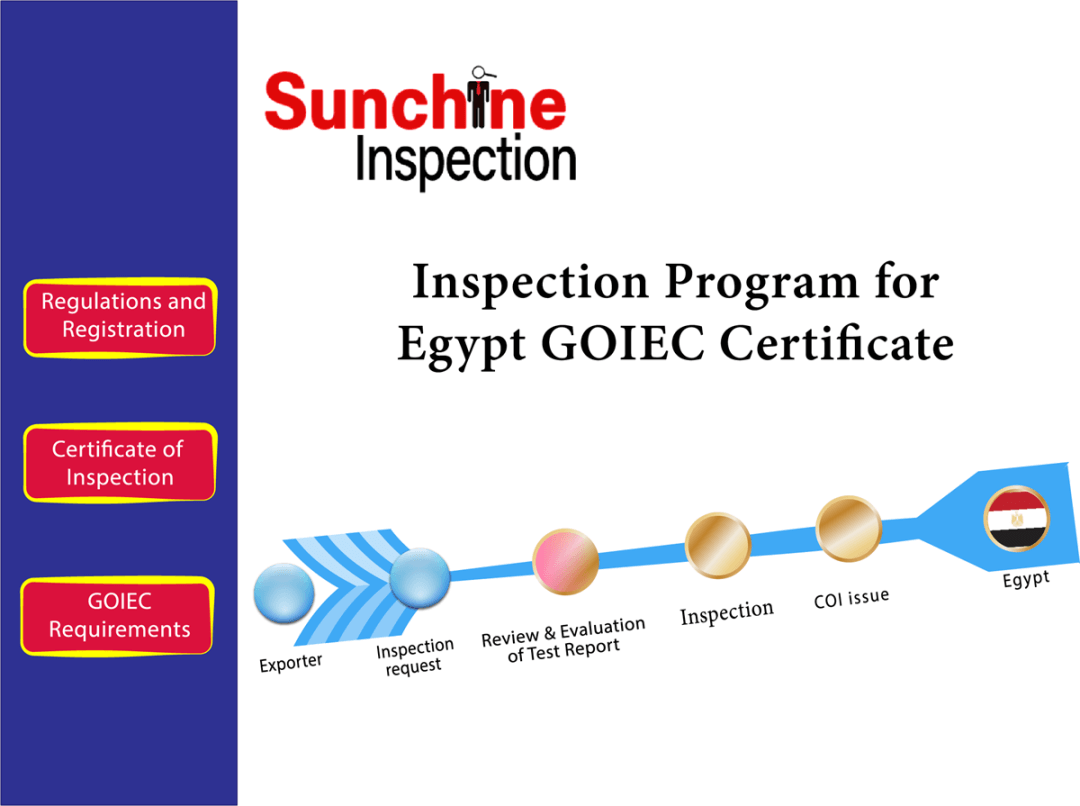 Sunchine Inspection warmly welcomes exporters, importers, customs clearance agents, laboratories, various institutions, associations, import and export companies, exhibition institutions, social organizations to contact us for cooperation and contribution to this program.