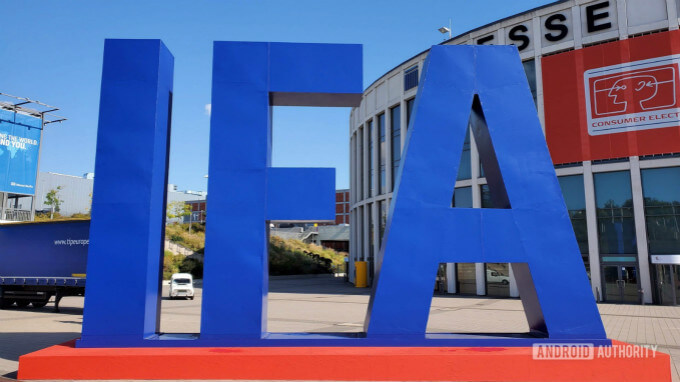 Weclome to Visit Sunchine Inspection at IFA (Internationale Funkausstellung Berlin) 2020- Online Exhibition !
In 2020, against the raging global pandemic of coronavirus and severely battered global trade, the IFA (Internationale Funkausstellung Berlin) 2020 was held online from September 03rd.
In this global top consumer electronics exhibition, Sunchine Inspection also participated in the whole process of this event as an exhibitor on line.
The IFA 2020-Online Exhibition information will be available to visit until the opening of the next exhibition on September 3, 2021.
As one professional 3rd Party Inspection and Testing company, Sunchine Inspection focus on providing professional Inspection, Testing and Certification services to global buyers and traders.
All respected buyers, exhibitors, and friends are welcome to visit our online showroom at IFA 2020-Online Exhibition:
https://www.virtualmarket.ifa-berlin.com/en/Sunchine-Quality-Control-Technology-Service-Co-Ltd,c570916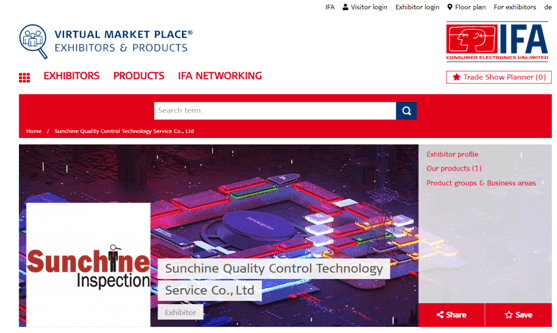 Sunchine Inspection, founded in 2007, with offices in China, France, Germany and India, Sunchine Inspection is one of the best third party inspection companies in China, serving over 1,500 regular clients in various fields, from all the Continents in the world.
Sunchine Inspection is able to perform Inspection, Testing, Certification in almost every important industrial region in Asia today, Such as Electronic appliances, Furniture, Home furnishing, Hardware tools, Textile &clothing, Cases &bags, Shoes, Building materials, Chemicals, Toys, Lighting, Consumer goods&retail, Agricultural&Mineral bulk goods, etc.
With over 150 qualified and accredited full-time inspectors, Sunchine present in more than 50 main cities in China and the service network has covered India, Cambodia, Vietnam, Malaysia, Indonesia, Pakistan, Turkey, Philippines, Thailand and other Asian countries.
Sunchine Inspection is already accredited and certificated by all China and international organizations such as AQSIQ(No:613),CNAS ISO/IEC17020(NO:IB0715), etc. The report of Sunchine Inspection is approved and authorized by more than 100 countries through agreement of ILAC-MRA
Also, as member of CIQA, Nanjing Chamber of Commerce for Import& Export(NJCCIE), Nanjing Council for the Promotion of International Trade(CCPIT), and Nanjing International Chamber of Commerce, Sunchine Inspection is engaged to be one of the most reliable Inspection, Testing, Certification Companies, to help the customers establish the confidence and safety in the international transaction.
As professional one-stop international inspection provider, with more than 30 technical advisors and around 150 qualified full-time inspectors in Asia& Europe, Sunchine Inspection focus on providing more flexible and humanized Inspection, Testing and Certification service to the customers from all over the world, including but not limited to:
 Quality Inspection;
Factory Audit;
Bulk Cargo Marine Survey;
Cargo Damage Identification;
Container Loading/Discharging Check;
Accredited Lab testing report;
Product certificate recognized by the destination country, such as RETIE(REGLAMENTOTECNICODEINSTALACIONESELECTRICAS);
Etc;
More and more multi-national firms are choosing Sunchine Inspection as Global Quality Partner in China and Great Asia.