Uzbekistan Pre-Shipment Inspection&Price Verification Service
Sunchine Inspection is authorized by the Uzbekistan government as a provider of Pre-Shipment Inspection (PSI) &Price Verification Service for the goods to Uzbekistan from worldwide .
The Republic of Uzbekistan is a landlocked country located in Central Asia. Its capital, Tashkent, is the largest city in Central Asia and the cultural capital of the Islamic world, where many historic mosques and religious sites are gathered. It is also an important hub city on the Belt and Road Initiative.
The branch company of Sunchine Inspection in Uzbekistan is located in Tashkent,Sunchine Inspection has also been accredited in ISO/IEC 17020 as an authorized Inspection Body by O'ZAKK, National Accreditation Center of Uzbekistan. The IB no. is O'ZAKK.IO.0015.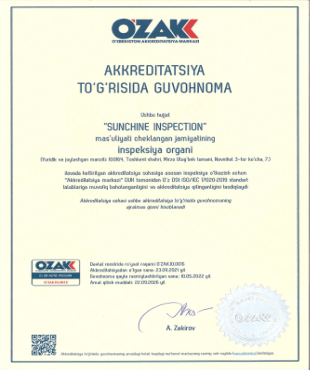 Our services
Pre-shipment inspection of goods
a) Physical inspection to confirm the quantity, quality and origin of the goods to be shipped;
b) Comparative analysis to know if the price of goods, freight, insurance, and other fees correspond to the price of the international market;
c) Checking for compliance of the present consignment of goods to the contract requirements, as well as to the customs instructions of the Republic of Uzbekistan.
Price verification
а) Search for prices for similar and identical goods on the international market for further comparison with the contract price;
b) Providing an opinion on the conformity or non- conformity of the price of imported goods with the prevailing price level in the country of origin or the conjuncture of the international market.
Physical inspection of the quantity and quality of goods
a) Physical inspection for confirmation of quantity and quality of goods to be load or unload;
b) Comparison of the actual technical parameters and quality characteristics in accordance with the documentation;
c) Monitoring of the loading/unloading of goods;
d) Issuance of the relevant reports on the results, with description of all of the above procedures.
If you are importing or exporting goods into Uzbekistan, please do not hesitate to contact us to assist you in complying with the quality control requirements!
Sunchine Inspection will continue to provide the most professional service of inspection and certification to the customers and hope to work with the Uzbekistan importers and the exporters worldwide and contributes to grow up the business of all partners in the Market of Uzbekistan!