Certification background
RoHS is a mandatory standard established by EU legislation . Its full name is "Restriction of Hazardous Substances" (Restriction of Hazardous Substances). The standard has been officially implemented on July 1, 2006, and is mainly used to standardize the material and process standards of electronic and electrical products, making it more conducive to human health and environmental protection. The purpose of this standard is to eliminate lead , mercury, cadmium , hexavalent chromium , polybrominated biphenyls and polybrominated diphenyl ethers in electrical and electronic products (note: the correct Chinese name of PBDE refers to polybrominated diphenyl ethers , which is a false statement ) There are 6 substances in total, and it is specifically stipulated that the lead content should not exceed 0.1%.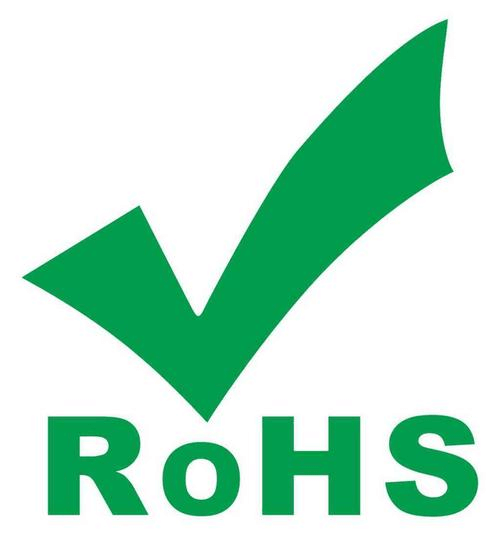 Product range
27 member states of the European Union: United Kingdom (withdrawal from the European Union in 2016), France, Germany, Italy, the Netherlands, Belgium, Luxembourg, Denmark, Ireland, Greece, Spain, Portugal, Austria, Sweden, Finland, Cyprus, Hungary, Czech Republic, Estonia, Latvia, Lithuania, Malta, Poland, Slovakia, Slovenia, Bulgaria, Romania.
The RoHS directive covers the electronic and electrical products listed in the catalog below AC1000V and DC1500V:
1. Large household appliances: refrigerators, washing machines, microwave ovens, air conditioners, etc.
2. Small household appliances: vacuum cleaners, electric irons, hair dryers, ovens, clocks, etc.
3. IT and communication equipment: computers, fax machines, telephones, mobile phones, etc.
4. Civil equipment: radios, televisions, video recorders, musical instruments, etc.
5. Lighting appliances: fluorescent lamps other than household lighting, lighting control devices
6. Power tools: electric drills, lathes, welding, sprayers, etc.
7. Toys/entertainment, sports equipment: electric cars, video game consoles, automatic gambling machines, etc.
8. Medical equipment: radiotherapy apparatus, electrocardiogram tester, analytical instrument, etc.
9. Monitoring/control devices: smoke detectors, thermostats, factory monitoring and control machines, etc.
10. Vending machines
It includes not only the whole product, but also production of machine used parts, raw materials and packaging, etc.
ROSH certification steps
(1) Fill in the RoHS test application form.
(2) Quotation settlement, after submitting the application, the customer sends samples (or express) to the testing agency.
(3) After the payment is received, the test will be arranged immediately.
(4) Issue reports.
RoHS Directive test items and requirements
Cadmium and cadmium compounds Cd: <100mg/kg
Lead and lead compound Pb: <1000mg/kg
Mercury and mercury compounds Hg: <1000mg/kg
Hexavalent chromium compound Cr6+: <1000mg/kg
Polybrominated biphenyls PBBs: <1000mg/kg
Polybrominated diphenyl ether PBDEs: <1000mg/kg