The Business Social Compliance Initiative (BSCI) is an organization that requires companies to use BSCI monitoring systems to continuously improve standards of Social responsibility in their manufacturing facilities worldwide. A factory inspection is required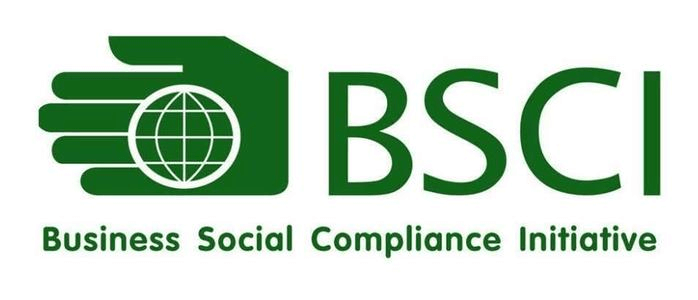 The traits
One certification deals with different customers, reduces foreign customers' second party audit of suppliers and saves costs;
Greater compliance with local regulations;
Establish international credibility and improve corporate image;
Make consumers have positive feelings towards the product;
Stabilize the cooperation with purchasers and expand new markets
Certification benefits
Fulfill guest requests.
A certification to deal with different customers – reduce the number of different buyers at different times to carry out factory inspection.
Enhance the image and status of the factory.
Upgrade the management system.
Improve relationships with employees.
Increase productivity and thus profits.
Minimize potential business risks such as workplace injury or death, lawsuits or lost orders.
To lay a solid foundation for long-term development.
BSCI members
BSCI unites 1,055 companies worldwide (as of 9 May 2013) around a common code of conduct and supports their efforts towards building an ethical supply chain, providing them with a step-by-step development oriented social responsibility system that applies to all sectors and all sourcing countries.
Members include global retailers, brands and multinational sourcing groups, as well as association organizations.
Audit scope
Management practices
Documentary evidence
Working time
remuneration
Child labor/underage labor
Forced labor/punitive measures/prisoner labor
Freedom of association/freedom of collective bargaining
discrimination
The working conditions
Health and Society
Facilities occupational safety and health
The dormitory
The environment
Environmental requirements
BSCI is the part of environmental protection requirements in B13, and the document evidence part B2 also contains the document evidence of environmental protection requirements. These include the following:
1. Hazardous waste management;
2. Storage of chemicals;
3. Chemical warehouse management;
4. Management of waste water and waste gas;
5. Discharge permit;
6. Documents of environmental assessment, acceptance, etc.