We are Sunchine Inspection
Founded in 2007,Sunchine Inspection is one of the best third party inspection companies in China, serving over 1,500 regular clients in various fields, from all the Continents in the world.
Sunchine Inspection is able to perform Inspection, Testing, Certification in almost every important industrial region in Asia today, Such as Electronic appliances, Furniture, Home furnishing, Hardware tools, Textile &clothing, Cases &bags, Shoes, Building materials, Chemicals, Toys, Lighting, Consumer goods&retail, Agricultural&Mineral bulk goods, etc.
With over 150 qualified and inspectors, Sunchine present in more than 50 main cities in China and the service network has covered India, Cambodia, Vietnam, Malaysia, Indonesia, Pakistan, Turkey, Philippines, Thailand and other Asian countries.
Sunchine Inspection is already accredited and certificated by all China and international organizations such as AQSIQ(No:613),CNAS ISO/IEC17020(NO:IB0715), etc. The report of Sunchine Inspection is approved and authorized by more than 100 countries through agreement of ILAC-MRA
Also, as member of CIQA, Nanjing Chamber of Commerce for Import& Export(NJCCIE), Nanjing Council for the Promotion of International Trade(CCPIT), and Nanjing International Chamber of Commerce, Sunchine Inspection is engaged to be one of the most reliable Inspection, Testing, Certification Companies, to help the customers establish the confidence and safety in the international transaction.
More and more multi-national firms are choosing Sunchine Inspection as Global Quality Partner in China and Great Asia.
We don't produce goods, but we create Values;
We don't sell products, but we build up Confidence;
We don't export cargos, but we are the symbol of Insurance;
The clients choose us, because we know better their Needs.
Safety, Security and Confidence
Sunchine Inspection aims to help the buyers to reduce the purchasing risk and guarantee quality in the international business with its own experience and technologies.
Today, Sunchine Inspection team serves for more than 1500 regular clients including the giant importers such as TESCO, AUCHAN, to help them to have the good quality product before shipment.

Making the international buying more simple, reliable and profitable, it's Sunchine Inspection's mission.
Working with Sunchine Inspection, it's working with safety, security and confidence;
This is the client's common comments.
Main advantages of Sunchine Inspection
One multi-language team combined with Chinese and Western Expertise;
Sunchine Inspection consists of one high qualified multi-language team, many advisors /Consultants can speak English, French, and Spanish very fluently. Sunchine is also one Cross-Culture team, which is combined with Chinese and Western countries employees. This qualification can help Sunchine to know well both the clients and the suppliers, to know well their needs and desire, to avoid any misunderstanding or communication problem during the mission performance.
One experienced Consultant/ Advisor Team
Most of our Sales managers and Account Managers have background of Western Countries Education and have rich experiences in inspection fields. They always can give the best suggestion to clients, and help the clients to find the best solution for their business.
One quick reaction service and on-line security payment system;
On-line sales service, the clients can deal with all orders from our website. The Inspection Report will be sent less than 24 hours after the inspection. With Sunchine Order system, the client can:
Getting quotation and inspection solution for each mission;
Placing order and payment on line very easily;
Very low traction fee for placing order;
Tracking the order status by Internet very quickly;
Consulting the previous order information by Internet;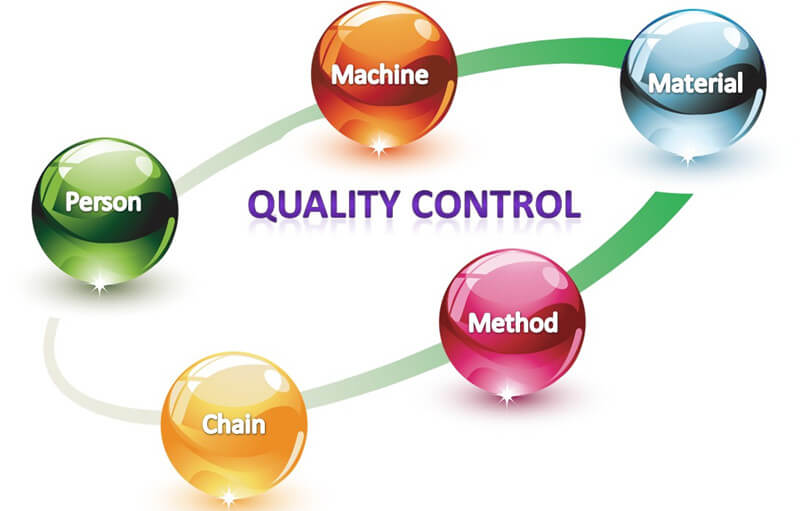 At Sunchine Inspection, the same care and attention, the same standard of service is given to each client regardless of the size of his business.
Assistance with Consultants & Advisors with rich experience in International Business Practice
Sunchine Inspection employs the Consultants & Advisors with rich experience in Import-Export, which makes Sunchine Inspection to have more knowledge and know-how to help their clients.
Beside, Sunchine Inspection can give the buyers more advice when the discrepancy or product defects occurred.
Trademark Registration of Sunchine Inspection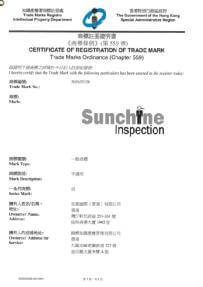 The trademark of Sunchine Inspection is registered successfully in Hong Kong.
Trademark Registration of Sunchine in China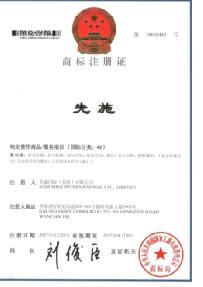 The trademark of Sunchine is registered successfully in China.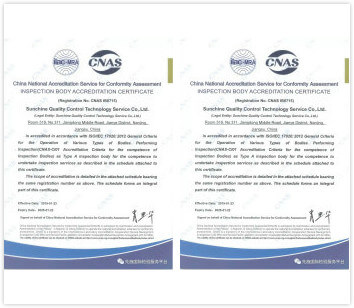 China National Accreditation Service (CNAS) accreditation is recognized by over 100 countries within ILAC, ISO and IEC. Many Chinese inspection companies are actually not approved by CNAS. From a legal point of view, the technical and quality assurance levels of such companies (without AQSIQ and CNAS17020 accreditation) are not qualified.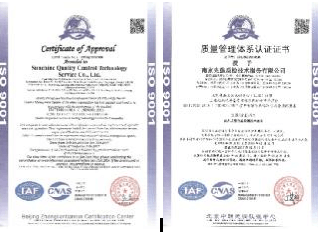 Sunchine Inspection is accredited by the ISO9001 quality management system. This certification shows that our quality management and inspection procedure conform to the international standards and requirements.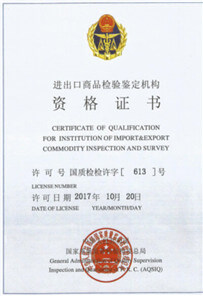 AQSIQ (The General Administration of Quality Supervision, Inspection and Quarantine) is a ministerial-level department under the State Council of China that is in charge of national quality, entry-exit commodity inspection, import-export products safety, certification and accreditation, as well as administrative law enforcement.
Sunchine Inspection is accredited AQSIQ that means the inspection reports issued by Sunchine Inspection is acknowledged by the government and have its legal validity.
Membership by CIQA in China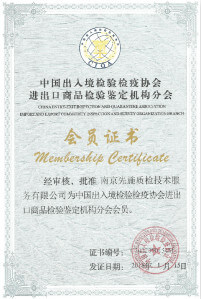 Sunchine Inspection has been officially incorporated into
the China Inspection and Quarantine Association(CIQA)!
TOP 10 International Business Service Innovation Enterprise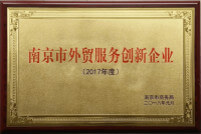 Sunchine Inspection has been rewarded by Nanjing Commerce Administration < TOP 10 International Business Service Innovation Enterprise.
Audit Supplier by Made in China